Post by Admin on Aug 28, 2016 18:41:23 GMT
Fishing In Siletz Bay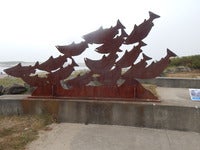 Click on the image of the migrating Chinook salmon twice to enlarge it page width full size.
The
Siletz River
enters
Siletz Bay
just west of the historic town of
Kernville
and enters the ocean just south of the
Community of Taft
at
Lincoln City
.
Do not attempt to cross the bar at Siletz Bay at anytime. Ebb currents at the shallow entrance can reach 5 to 7 knots. Boaters inside the bay should be wary navigating near the mouth. Loosing power while boating at the entrance to Siletz Bay can cost you your life and the lives of all those onboard.
The term, "shallow entrance" implies shallow water which it is not! Children falling into or attempting to swim in the deep water channel that runs along the North Shore can be swept into the ocean in the blink of an eye. Click on the image of Siletz Bay to enlarge the photo.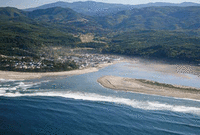 Click on
SILETZ BAY
to view a map of the crabbing and clam digging resources in Siletz Bay followed by a photo array of clam diggers taking purple varnish and softshell clams and the crabbing video clip of my friend Dustin crabbing.
At the turn of the century Oregon's ninth largest bay was a deep water port of entry, but over time the bay has been subjected to extensive sedimentation. Studies show the ocean is the source of most of the sediment deposited on the tidal flats in the bay. The numerous logs and root wads marooned on the tidal flats have become small islands. The bar at the entrance to Siletz Bay is dangerous to cross. Not at any time should the small boater attempt to cross the bar. You have to use caution when crabbing or fishing in Siletz Bay. You should only crab or fish in the lower bay on a high incoming tide. The high current velocity of the major tidal phase of an outgoing spring tide reaches seven knots at the entrance, enough force to pull an underpowered vessel or one having engine failure over the bar into the surf jeopardizing the lives of all aboard.
Siletz Bay is one of Oregon's most popular bays to fish for Chinook salmon. The Siletz River has both a summer and fall run of Chinook salmon. Chinook salmon kickoff the fishing mania when they begin returning to the bay in August drawing hundreds of anglers to the north shore. All of the excitement generated by returning salmon continues through October.
Fishing in Siletz Bay
On 08/30/18
Chinook salmon tagged
along the North Shore of Siletz Bay by local angler.