Post by Admin on Jun 3, 2015 10:28:24 GMT
The recreational opportunities listed on the webpage for Nestucca Bay are brought to you by wwww.
clamdigging.info
for the benefit of the members of the Clam Digging and Crabbing Community.
Click on image of the entrance of Nestucca Bay to enlarge it.
Nestucca Bay at 2.9 north 35.0 south
: Nestucca Bay is the southern jewel of the Three Capes Scenic Loop. The beauty of Oregon's tenth largest bay provides the visitor a vision of things to come as they travel north on the Three Capes Scenic Loop.
The bay is very shallow and dominated by tidal flats. Each fall the shallow water of the tidal flats attracts thousands of migrating waterfowl. The bar at the entrance to Nestucca Bay is dangerous to cross. Not at anytime should the small boater attempt to cross the bar. You should only crab or fish in the lower bay on a high incoming tide because the speed of the current from a strong outgoing tide can pull a small boat into the surf at the bar capsizing the boat. Local anglers refer to the Nestucca River as the Big Nestucca or the big river and to the Little Nestucca River as the little river.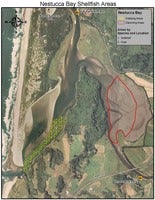 On 08/26
crabbers in the lower Nestucca Bay report crabbing is fair for keepers.
On 8/26
the Nestucca Valley Outfitters in Hebo reports (503) 392-4269: a few salmon are entering the lower bay with a few fish being tagged.
Click on the image of the ODFW map of Nestucca Bay to enlarge the image of the ODFW map of clam and crabbing resources.
Typically the best crabbing occurs in the lower bay seaward during the period of time from mid-summer into mid fall when the river flows are at their lowest.
Crabber Steve and friends took time off of crabbing and fishing in Siletz Bay to crab in the lower Nestucca Bay. Several months prior to this visit Steve and friends took near limit catches of Dungeness crabs using Crab Max crab traps; however, this time they did not take a crab. Recent rainfall pushed the crabs out into the ocean.
Winema is the Beach south of Nestucca Bay. The fishing for redtail surfperch is excellent in spring. Access to the parking easement near the end of Winema Rd. is limited. Crabbers park at the public easement and walk to the south shore of Nestucca Bay to crab for Dungeness Crab.